Every business owner wants to maximize production and extract optimal profitability from their venture. This is only reasonable. It is generally agreed that two of the most integral keys central to a successful operation are communication and efficiency. Sage 300 ERP (ACCPAC) is a business management client that operates with these tenets in mind; ACCPAC accelerates growth within and eventually beyond the framework of your business.
Sage 300 ERP will change the way you look at all the moving parts that compose your business. Designed to function seamlessly with various operating systems, (be it Windows XP, Vista, Windows 7, or Windows 8) and various databases, (Pervasive, MS SQL, Oracle) ACCPAC synchronizes everything your employees need to know into one ideal cost- effective solution. Using a cloud-based concept that keeps everyone and everything on the same page, Sage is formulated for internet use and is guaranteed to provide a dependable infrastructure for your growing business. Support for five languages and multiple currencies promises that no barriers get in the way of productivity if you expand internationally. Widely sharing information amongst every area of your operation has never been more straightforward. Technological accessibility is a concern of every business; even the savviest employees can have trouble with the at times overwhelming nature of morphing technologies and complex programming software. It should be possible for one to do his job without being an IT geek, and ACCPAC ensures that this will never be a concern. With proper training training, excellent online help, user manuals, and procedure manuals, every member of your workforce can utilize every component of the software, meaning that you in turn can utilize every facet of that workforce. Sage 300 ERP is designed to work for your company, not the other way around.
ACCPAC specializes in what you need to happen, when you need it. All of the programs included in Sage are committed to that ideal. The distribution solution keeps track of inventory, production rate and service department status - everything you need to be aware of - including order entry, inventory control, and sales tax calculating software, every inch of your expanding distribution cycle is at your fingertips.
Supporting your employees and all their individual unique skill sets is now, with the help of ACCPAC, as easy as you want it to be. Human resources are a snap with the ser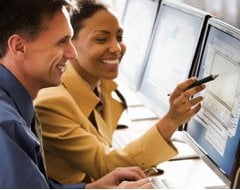 vices and project management solutions module; Time sheet support and project price quotes further aid to minimize the tedious legwork. The HR module ensures that while you help your workforce perform to their peak, you can keep comprehensive records of their progress and training.

For your operation to be at its best, you need business systems that work. Sage's business intelligence tools work. Be prepared to make faster, more informed decisions while taking more factors into account than ever before. Keeping costs low and achieving the proverbial bang for your buck is a concern ACCPAC is meant to address. Top rated among middle tier ERP solutions, Sage 300 ERP gets the job -- done more efficiently than any other.