Why Choose Easy tweaker? Tweaker?
Does your PC run slower and slower over time?

Do you get the strange ActiveX or similar .dll errors?

Does your computer pop up mysterious error messages?

Do you trouble with the annoying pop-up ads of the Internet?

Do you suffer from the system's memory strike all the time?

Are you afraid of being tracked when you are surfing the Internet?

Are you troubled with the blue screen, system crashing or system freezing from time to time?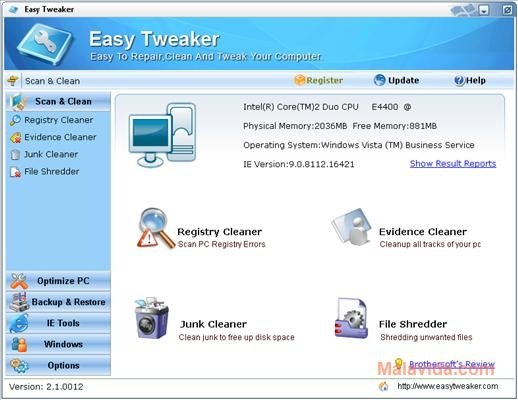 Easy Tweaker is The Best Microsoft Windows registry clenaer and registry fix tool designed for Windows© PCs to avoid re-installing the operating system. Easy Tweaker is a complete package for your PC care and maintenance that you don't have to go through the hassles of resolving the problems and with Easy Tweaker you can safely clean and repair the registry problems and speed up your computer with a few simple clicks.
The tool for everyday data transfer to SQL Server
FlySpeed DB Migrate to SQL Server is not a one-time utility but a set of Power Tools to automate your data movement and synchronization tasks. Saving all migration options to a file, you may easily repeat your task in a few mouse clicks. The Command-line tool and the Task Scheduler let you automate your data transfer completely.
The Free Tool to Export Your Data
The Trial version of FlySpeed Data Export does not have any limitations and allows taking advantage of all features of Professional version during the 30 day period. After the trial period, you may still use the Free version of the product at unlimited time and export your data without any restrictions!
Odin Data Recovery
Mac Recovery Software Link Odin Data Recovery
Powerful Mac data recovery software to recover deleted, formatted and lost files from hard drive, digital cameras, and USB external drives.
Support most of file systems, FAT, NTFS, exFAT, HFS+, and ext2/ext3/ext4 etc.

Recover deleted documents, videos, audios, photos and any file formats you want.

Easy steps to recover, no technical skills and knowledges needed.

High speed scanning to s

ave time for you.

Compatible with the latest Mac OS X Mountain Lion.







Flyspeed Software
Flyspeed SQL Query-Desktop Version Link
FlySpeed SQL Query Tool Key Features
Windows OS support from 98 to Windows 8, including Server and 64-bit versions.

Native connection to most popular database servers.

Easy-to-use visual query builder to build even complex SQL queries.

SQL Editor with code completion and syntax highlight.

High-speed data retrieval, quick data manipulations.

Exporting data to Excel, Text, CSV and XML files. *
Printing data and exporting to PDF format. *

Full Unicode support.

Portable installation to work from a USB Flash drive.

- available in FlySpeed SQL Query Tool Standard version only.
FlySpeed Database Query Tool supports the following databases
Full support of SQL syntax for Microsoft SQL Server, Oracle, MySQL, Microsoft Jet 4 (MS Access, MS Excel), PostgreSQL, InterBase, Firebird, IBM DB2, Informix, Sybase, SQLite databases.

Support of the other ANSI SQL/92, SQL/89 and SQL/2003 compatible database servers such as Teradata, Netezza and desktop databases (Paradox, FoxPro, dBase (DBF)).

Native connection to Microsoft SQL Server, Oracle, MySQL, PostgreSQL, MS Access, InterBase/Firebird databases.

Connection to any other database via ADO or ODBC driver.




Flyspeed DB Migrate to SQL Server-Standard Version Link
Database migration under control
FlySpeed DB Migrate to SQL Server is a timesaver for database migration to MS SQL and data transfer tasks. It successfully copes with two main problems occured during migration to the SQL Server database from another server or desktop database:
Full transfer of the database tables structure and data in regards to all the fine points of MS SQL Server
Data transfer into already existing SQL Server tables with ability to maintain data actuality afterwards (single-side synchronization).
The tool to move your database to SQL Server at one sight
FlySpeed DB Migrate to SQL Server provides rapid data migration across databases ensuring lossless data integrity. It allows modification of a database structure and data with ease. With FlySpeed DB Migrate, you gain the control you need during the migration process.
FlySpeed DB Migrate Key features
Complete or partial transfer of database schema and data.

Restructure/Transform schema and data with ease during migration.

Transfer data into existing SQL Server tables within the destination database.

Transfer new/updated/deleted records only (single-sided data synchronization).

Generation of SQL Script (Dump) for future execution on the destination MS SQL Server.

Running data synchronization tasks in one click using the Command-line tool.
Full automation of migration process with the Task Scheduler and OLE Automation.

Full monitoring and control over the database generation process.

Full Unicode support.
Flyspeed Data Export for SQL Server-Standard Version Link
The Universal Database Export Tool
FlySpeed Data Export is the must-have tool to export data from your database quickly and easily. The ability to export data from almost any database using OLE DB or ODBC, and save data to the most-popular office formats makes FlySpeed Data Export a really universal data export tool.
FlySpeed Data Export was successfully tested with all popular database servers, such as MySQL, Oracle, MS SQL Server, PostgreSQL, Firebird and many others. The tool lets you to save data in MS Excel, CSV, HTML, XML, DBF, Text, MS Word, MS Access, Open Document Text and Spreadsheet formats.
The Essential Tool for Everyday Data Transfer
FlySpeed Data Export is not a one-time utility, but a set of Power Tools to automate your data export tasks. Saving all export settings to a file, you may easily repeat your task in a few mouse clicks. The Command-line tool and the Task Scheduler let you automate your data transfer completely.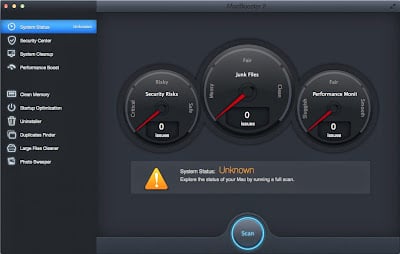 iObit MacBooster 2 Key Features
One-click Cleanup features to clean any file just in one click that caused you Mac system slow.
System Cleanup. Remove all junk files and free up the space of your hard disk.
Smart Optimization. Increase you Mac performance.
Performance Boost. useful features is you gaming and multimedia addict.
Mac Security. Make you Mac more secure using this tool.