Sage Pro ERP (formerly "ACCPAC Pro Series" and "SBT Pro Series") is Sage's open source code, customizable business management system for small to medium-sized enterprises. Pro Series offers a complete suite of accounting and operational module, two database choices and end-to-end integration with many other Sage products. Sage Pro Series is a great choice for growing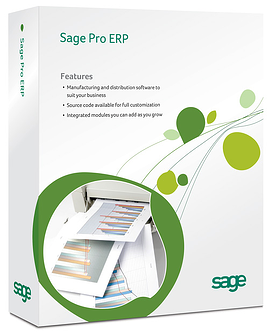 businesses with unique requirements.
This blog article lists most of the enhancements that have been added to Pro Series since version 5.0 was released in the late 1990s. The list is very long. The reader may find it hard to distinguish the features that will be useful from those that will not. The reader is encouraged to consult his Sage Pro Series expert to determine which of the features listed here will be useful to his business.
The new features are listed in order of version release, newest to oldest.
Sage Pro ERP 2010 Product Overview
Sage Pro ERP 2010 offers robust, sophisticated accounting, operations, and manufacturing software capabilities right out of the box, and it can also be customized to your exact specifications-thanks to its modifiable source code and easy-to-use customization tools. As your business grows and your ERP software needs change, you can add modules to your Sage Pro system and increase capacity.
The Sage Pro Difference
Sage Pro is all about freedom of choice. Sage Pro users deserve a business management and manufacturing software system that will support their decisions, rather than force them into a one-size-fits-all solution that may frustrate their staff and drag down their processes. That's why we've made Sage Pro a completely adaptable, flexible business software system. After you've chosen which Sage Pro modules you need, how many users you want, if or how you want to modify its source code, and how you want your screens to look, you should have a system that optimizes your business workflows . . . provides you with relevant, on-time business information . . . and delights your newly productive employees.
Sage Pro Values
Sage Pro is fully customizable. From an experienced ERP software company, Sage Pro 200 provides full source code access, and both editions of Sage Pro come with a customization tool for easy screen and desktop personalization, so you can customize Sage Pro to your exact requirements.
Sage Pro is easy to use. With an ERP software company perspective, the graphic interface is consistent from screen to screen making Sage Pro easy to learn and use.
Sage Pro puts real-time business information and supporting detail at your fingertips. The Sage Pro Business Status Report allows you to check vital information in real time. Powerful drill-down capabilities allow you to view and analyze your data at any level of detail. Learn more about Sage Pro's sophisticated reporting and analysis capabilities.
Sage Pro is scalable and flexible. Your choice of editions and modules make it easy to fit Sage Pro to your present requirements while knowing that you can always add capacity and functionality as you grow with the help of a leading ERP software company.
Sage Pro works with CRM, HR, and more. As a premier ERP software company, we can help improve all departments of your business. Your employees can work more effectively, making them more productive and more interdependent, because Sage Pro works as the accounting foundation for a whole set of integrated end-to-end solutions.
Major New Features
Get only the data you need sorted the way you want on custom reports. Customize the report filters so you can create custom filters and sort options for your reports. You can even save these custom report options to be reused as needed.
Save the report settings for how you want to run your reports with report preferences.
Creating custom exports. Eliminate time formerly spent cleaning up report data prior to analysis with the new ability to export formatted or unformatted data from the report option grid. You can even choose your preferred file type or format: Microsoft Excel®, HTML, XML, ASCII Delimited, or Text.
Access your favorite data drillers quickly and easily. Do you use certain standard or custom data drillers on a regular basis? There's no longer any |need to search through the whole list to find your favorites: The new data driller organization tool in your Sage Pro 2010 software lets you define Dataview Groups and associate default data drillers to each, significantly cutting down on time.
Make sure preferred customers have priority on available inventory. A new check box in Sales Order lets you reserve inventory for a particular customer order. This eliminates the risk of penalties that some customers may charge when stock gets too low or is under-shipped.
Streamline your data import process with enhanced import options. Importing data has never been easier! Sage Pro 2010 technology offers several enhanced options to help simplify your data import.

You'll know exactly where you are in the import process, thanks to a new display, which indicates the current status, like "Importing item 2 of 7." In addition, choosing Quick Import no longer prompts you at each stage of the process. Since it runs silently in the background, you don't need to monitor the import constantly.
New import options include Item at Location and Item Supplier. You can now also import line-level descriptions and import and export vendor cost levels.
When importing payroll posting, there is an option to print the invalid posting report before completing the import, for added convenience.
When importing items into the Sage Pro 2010 system, there is an option to choose a default item location, where the items will be assigned upon import, so you'll always know where imported items can be found.
Additional new features include the ability to edit subledger batches that have been imported.

Enjoy enhanced flexibility in exporting data. A new option to export from Data Center tables allows you to export your tables and fields in several formats. Choose from Microsoft Excel, ASCII Delimited, XML, and CSV.
Save money on payroll printing. Save on costly preprinted check forms while keeping your check numbers consistent for reconciliation. The overflow check stub feature for Payroll prints the overflow of check stubs to blank paper or a separate printer when you have a check with more than 12 advice lines, so you don't need to waste expensive check forms for anything but checks. In addition, a new direct deposit Web upload option for ACH makes direct deposit data transferring smoother and easier.
Expanded printing details make invoices and order reports clearer. Sage Pro 2010 offers additional details on invoices and reports, so you can now provide more information to internal and external clients. Deposits collected against a sales order are now included in Sales Order Printing and the Open Orders report, and invoice printing includes the applied amounts and payments received details and also displays balance invoice amount, so you can tell at a glance how much is still owed on each order.
Set up multiple Inter-Company Transaction accounts for clearer audit trails. Previously, the Inter-Company Transaction (ICT) module allowed for only one account, making the audit trail of a series of transactions hard to follow. Now you can select any General Ledger account as the Inter-Company Clearing account. Detail descriptions of ICT postings in Sage Pro 2010 are also enhanced to display more details about transactions.
Easily access more details on Inter-Company Transactions through enhanced reports
A new, easily accessible report menu item in Sage Pro 2010 lets you run a summary report for Inter-Company Transactions that were distributed in the source company, received from other companies, or consolidated, distributed, or received.
Enjoy expanded compatibility options. Sage Pro ERP is now fully compatible with Microsoft Office® 2007 including the new formats of Microsoft Word and Excel, like DOCX and XLSX, in various processes. Now functions like import, export, merge, dunning, charts, and pivot tables are available. Sage Pro ERP is now also fully compatible with Microsoft SQL Server® 2008.
Edit partially released work orders. This new feature lets you edit the required quantities of released component lines of a work order, allowing you to keep your work orders up to date.
Change the order quantity of Sales Order finished good line items. If you need to edit the order quantity of finished good line items in a Sales Order, you can do so easily in Sage Pro 2010. When the quantity of that line is changed, reconfiguration of components takes place automatically, according to your designated explosion method and the BOM setting.
Expanded Accounts Payable options eliminate need to change the system date and enhance security. Several enhancements to the Accounts Payable (AP) module in Sage Pro 2010 expand your options when voiding checks and invoices. With the new ability to change a date when voiding AP invoices, you don't have to change the system date in order to void an invoice in a prior or future period date. You can also now void prepayment checks after applying them to an invoice. In addition, Sage Pro 2010 introduces the ability to set a default date when voiding AP and Payroll checks. Simply enter a void date while voiding these checks and direct deposit to void the checks or direct deposit in a prior or future period date without changing the system date. Security is also enhanced in Sage Pro 2010. A warning for duplicate invoice numbers in Accounts Payable eliminates the risk of double-paying a single invoice.
See the total quantity of components required for jobs. A new feature in your Sage Pro 2010 software lets you print the Work in Progress report grouped and ordered by component. This convenient feature shows you at a glance the total quantity of a particular component or of all component items required for all of your jobs in a single print run.
Improved performance in a multiuser environment. Sage Pro 2010 technology facilitates storing the screen positions in a local table instead of the system table SYUFSPR if preferred. This produces a significant improvement in performance in a typical multiuser environment when many users simultaneously exit out of the screen.
See when national and regular accounts were last applied. This new feature updates and shows the last applied date and amount in the customer maintenance screen for national accounts and regular customers.
Start accepting commercial credit cards. Support for commercial credit cards is new in Sage Pro 2010. This frequently requested feature can help to reduce rates with merchant accounts and save you money.
Access the Receive Orders screen more easily from change or void. A new shortcut button has been added to the Purchase Order Change or Void Orders screen to launch the Receive Orders screen, saving you time in the Purchase Order process.
Access favorite forms more quickly from shortcuts. Easy access to favorite forms is now possible through hotkeys (like ALT-K), which can be set in the Organize Favorites screen. You'll be able to get to your most frequently used forms in a couple of keystrokes, saving you valuable time. Users can also choose to show hot key text when you hover over a function if you forget which hotkey was selected for a function.
Expanded deposit options for Sales Order. Sage Pro now allows collecting multiple deposits against a Sales Order. It is also now possible to collect deposits through Sales Order Change or Void Orders, all of which give you more flexibility in deposit payments.
Sage Pro ERP 7.5
We can only touch on the major changes. Sage Pro ERP 7.5 introduced over 200 new features and improvements.
Major New Features
Drilldowns made easy! Custom drill-down code available to copy and link to data viewer.
More reports now have drill-down feature. Want to know more about that number? Click it!
Executive Dashboard now allows editing of customers and vendors
Manufacturing now supports work-in-process posting to the general ledger
Landed cost added to Purchase Orders and Inventory Control. Add freight and other incidental costs to PO receipts
Sarbannes-Oxley compliance with restricted access to Sage Pro data folders in Pro SQL Server installations
Credit card processing through Sage Payment Solutions gateway
Major improvements in the manufacturing modules

Right-click the bill-of-materials tree-view to add, edit, delete or renumber components or finished good items.
BOM search feature makes it easy to find BOMs
BOM Inquiries yield estimated manufactured costs based on current costs with "what if" analysis
Manufacturing screens now fully MDI which means you can have many open simultaneously
Work order approve, unapproved, explode and unexploded functions streamlined for greater efficiency
Friendly tree-view added to work order route maintenance with full right-click capabilities
Easy wizard added to work order completion process
Separate numbering for Shop Control plan orders
Work order generation now supports forecasted demand and uses new manufacturing order points and quantities
Drag-and-drop master production schedule makes it easy to prioritize production
Job Cost and manufacturing modules now integrated. Production orders can be written in Job Cost and production costs post back to the job when completed
Purchase order number validation during sales order entry prevents entry of duplicate orders
Data import wizards for customers, vendors, inventory and vendors makes it easy to import new data
Import A/R and A/P manual invoices for easy conversions when launching new companies
Void previous period A/R invoices (with full audit trail)
RMA module now supports cross-ship when you customer needs a replacement part quickly
Assign deposits to customer orders
Editing sales orders with linked work orders triggers an alert to the user so that the work order is also updated
Free PDF writer added to MessageMaster (intelligent email interface in Sage Pro)
Executive Dashboard (exclusively for Sage Pro 200)
Document Routing for Order Entry and Purchase Orders (exclusively for Sage Pro 200)
Return Merchandise Authorization (RMA) Module added
Quotation and Bid Manager added (exclusively for Sage Pro 200)
Enhanced System Management capabilities including My Task List, flexible fiscal calendar and redesigned period-close
Accounts Payable Electronic Funds Transfer (EFT) and Enhanced Payroll EFT
Enhanced Manufacturing Features
Enhanced Drill Downs available on many data fields
Bar Code and RFID Support in Inventory Control
SQL Express Support
Company and vendor number auto-generation option
Enhance security (stronger passwords, periodic password change requirements, stronger encryption)
Sage Pro ERP 7.4
Major New Features
New Features by Module
Accounts Payable
AP Invoice Number Size Can Be Extended –The AP Invoice number field can be extended to a custom length using the data dictionary. The width of the screen entry fields will extend automatically to a maximum of 15 characters without requiring any change to programs and forms.
AP Invoice Line Item Description and Notes – Users now have the ability to add line item descriptions and notes for each distribution line in a payable entry.
Electronic Fund Transfer (EFT) for AP - Payments can be made electronically through the Direct Payment option in AP. The payments are generated in ACH file format which can then be submitted for payment.
Vendor Inquiry Shows Credit Card Transactions – Credit card transactions for a vendor can be reviewed using the vendor inquiry.
Aged Payables to Include Account Filter – Aged payables report is enhanced to filter on account number. For example, users can generate the aged payable report for a group of vendors who use the same Accounts Payable control account.
Voiding AP Invoices - Users can void an AP invoice when voiding an AP check.
Summary Check and Invoice Register – New "Summary" option available when printing check and invoice registers.
Audit Trail Report for Debit Memos Applied to Invoices – Users can generate a detailed audit trail report of payments made against an invoice and debit memos/prepayments applied to invoices.
Retain Previous Account Number in AP Distribution Screen - A new check box "Retain account selection for new line" has been added to the distribution account in the "Distribution Entry" tab of Enter payables screen. When checked, the account number selected is used for subsequent line entries rather than defaulting back to the vendor's "Default Account".
Retain Vendor Id After Completing Invoice PO receipts - The Vendor ID selection field in the "Invoice PO receipts screen" of AP retains the previously entered vendor ID value.
Editable Void Date for AP – Users can enter a void date when voiding checks. The AP check reports have additional filters for sorting by void date.
Vendor 1099 Warnings - Users can setup a 1099 warning date range. If a range is entered, a warning dialog displays if a vendor payment is made at the end of the calendar year, but before the 1099 year has been closed.
Multiple Invoices for a PO Receipt - The AP Invoice PO Receipt process has been expanded to allow multiple invoices for a single PO receipt. Users can book multiple entries against their AP for a single receipt.
Printing Item Pictures on Invoices - Pictures of items can be displayed on printed invoices. A picture is associated with an item using the Picture tab in the Item Master Maintenance screen.
Batch Printing of Packing Slips – Packing Slips can be printed in a batch, independently of the invoice. In addition, users can print multiple copies of the packing slip.
Customer/Vendor Link – This feature provides a way for users to adjust payments for vendors who also serve as customers. Users can determine a payment amount that takes into account both the purchase and sale of goods and services. Customers and vendors can be linked using the Company Maintenance screen in the Customer Connect application.
Accounts Receivable
Printing AR Refund Checks – Users can create refund checks that can be applied against a credit memo. Voiding these checks will automatically create an open credit for the customer. Users can also print the Refund Check Register from Accounts Receivable.
Bank Deposit Reference in Cash Receipts Register – The Cash Receipts Register report now displays the Bank Deposit Reference for all the Order By options.
Customer Statement for National Account – Print customer statements for National Account customers using the option on the AR Print menu. Previewing is also enabled for Customer statement reports.
Support for Credit Memos and Negative Cash Receipts with National Accounts – Users can apply negative cash receipts and credit memos to transactions of other customers within the same National Account.
Privilege to Allow Sales Discount Percent Override – New privileges facilitate editing Sales Discount Percentage.
Customer Specific Item Part Numbers – The new Customer Item Number maintenance screen allows users to assign item part numbers for a specific customer. Users can add a customer part number when entering an invoice, and the customer part number is printed on the invoice.
Customer/Vendor Link – This feature provides a way for users to adjust payments for vendors who also serve as customers. Users can determine a payment amount that takes into account both the purchase and sale of goods and services. Customers and vendors can be linked using the Company Maintenance screen in the Customer Connect application.
Transaction Categories Inquiry Button – An Inquiry button has been added for sales category, item category or transaction category fields. The inquiry will display a listing of transaction category accounts.
Bills of Lading
Multiple In-Transit Locations – Bills of Lading supports multiple In-Transit locations for the transfer of materials between warehouse locations. Using the WM ?? Maintain ?? In-Transit Locations menu option, users can flag one or more existing location as "In-Transit".
Enhanced Bills of Lading - The printing of bills of lading has been enhanced to support partial shipments as well as new guidelines pertaining to NMFC and UFC codes. Printing of drop ship items on bills of lading forms is not allowed.
Packing Slips for Inventory Transfers – Users can print Packing Slips individually or as a batch for Bills of Lading Transfers.
A new Print Packing Slips menu option is available in Inventory Control.
General Ledger
Release to GL with Auto Option – Allows users to schedule the Release to GL process for one or more modules using Pro Alert.
Expanded GL Account Structure – Version 7.4 supports an out-of-box account structure that is 36 characters in length with a maximum of 10 segments. In addition, a user-defined account structure that is 90 characters in length with a maximum of 15 segments is supported.
Enhanced GL Drilldown – Provides the opportunity to enter notes while creating journal entries and setting up automatic entries. In addition, users can print sub ledger detail information that is automatically captured to the Note field during detail sub ledger postings. This enables the drill down ability by ensuring an audit trail of the distribution files.
Copy GL Batch - A Copy From option has been added to the Create Batch screen that allows users to copy an existing batch or a transaction within an existing batch. Users can also indicate if the posting amounts are to be switched, for example, credit amounts become debit amounts and debit amounts become credit amounts on the new entry.
Out-of-Balance Transaction Rollback – GL postings provide a warning if entries are out of balance and allow rollback. This will help prevent data issues and assist in identifying issues by notifying the user if and when they occur.
Inventory Control
Improved Support for Serialized Pricing – The new Cost field records the specific cost of a serialized item when it is received into inventory. Users must create a markup percent pricing record to activate the pricing feature for a particular serialized item. The price of the item is calculated using the value of the Cost field and the pricing information.
Enhanced Stores and Bins Functionality - The stores and bins feature is enhanced to support default stores and bins for receiving and issuing locations, and picklists for all stores and bins in all screens. In addition, a new IC setting prevents users from entering blank stores and bins.
Barcode Support – Users can assign an item-specific barcodes or serial numbers to an inventory item and print the barcode out for scanning with a barcode or wedge reader. Barcodes can also be scanned in entry screens.
Improved Cycle Counting – Users can import cycle counting data to update the cycle counts. This feature can be linked to a programmed bar code scanner used to count the items in the warehouse and then sync that count to the cycle counting in Sage Pro ERP.
No Freeze During Cycle Counting – Users can choose not to freeze items for cycle counting. The cycle count screen displays the original count at the time of printing the cycle count worksheet and then lists all transactions done after the count (with date time stamp), to help reconcile any discrepancies during the counting.
Packing Slips for Inventory Transfers – Users can print Packing Slips individually or as a batch for Inventory Transfers and Issues. A new Print ??Packing Slips menu option is available from the Print menu.
Inventory Transfers Across Companies - This feature allows inventory to be transferred across companies.
Item Quantities Inquiry - An inquiry report lists documents that have allocated or on-order quantities associated with an inventory item.
Adding Inventory to Price Groups in Mass - The Price Group Maintenance screen supports adding inventory items and customers in mass to a price group. Using the treeview, users can identify price groups along with the associated inventory items and customers. This reduces the time needed for linking inventory items and customers to price groups.
Edit Price Group and Item Pricing in Excel - Users can edit the price settings defined in Price Group or Item Pricing by exporting the price settings to Microsoft Excel and importing back to Sage Pro ERP.
Add Date Range to Inventory Adjustments Report – The inventory adjustments report has been enhanced to be run for a given date range.
Job Cost
Attach Picture Files to Jobs – Users can add pictures to jobs in Job Cost, including those taken at beginning, during and end of a job. These pictures can be printed on invoice forms.
Streamlined Selection of Billing Methods In JC – The process of entering change orders in Job Cost was enhanced for all billing methods to allow for easier use. Reporting was enhanced to make it easier to track change order transactions and invoices.
Category Level Estimating/Budgeting – Users can add estimate and budget quantities and amounts from the Category level of the Estimate and Budget for Job screen.
Privilege to Allow Sales Discount Percent Override – New privileges facilitate editing Sales Discount Percentage.
Order Entry
Retain SO Bids - Users can retain Bids that orders are generated from. This allows for Bid history and generation of multiple orders from the same Bid. You can also combine multiple Bids on the same order. Users can select which line items from the Bid to include on the order and adjust quantities and costs/prices.
Generated Reorders Can Be Split Among Vendors – Quantities ordered for an item in the Generate Recommended Orders wizard can be split among vendors.
Block Reprint of Partially Shipped Orders - Reprint of sales orders in auto mode can be blocked, preventing an order from being re-printed after it is changed or partially shipped.
Printing Packing Slips from Quick Shipment – Users can print packing slips for all shipped orders when called from quick shipment.
Revised Journal Entries for Deferred Invoicing of Shipments – Journal entries generated for deferred invoices during Enter Shipments and Invoice SO Shipments are modified to use a Shipment Clearing account. This keeps revenue and cost synchronized and allows the user to close the period without passing any adjusting entries.
Printing Item Pictures On Orders - Pictures of items specified in the Item Master Maintenance screen can be displayed on printed orders and invoices.
Privilege to Allow Sales Discount Percent Override – New privileges facilitate editing Sales Discount Percentage.
Batch Printing of Packing Slips – Packing Slips can be printed in batch, independently of the sales order. In addition, users can print multiple copies of the packing slip.
Customer/Vendor Link – This feature provides a way for users to adjust payments for vendors who also serve as customers. Users can determine a payment amount that takes into account both the purchase and sale of goods and services. Customers and vendors can be linked using the Company Maintenance screen in the Customer Connect application.
Customer Specific Item Part Numbers – The new Customer Item Number maintenance screen allows users to assign item part numbers for a specific customer. Users can add a customer part number when entering an order, and the customer part number is printed on the order.
Payroll
Editable Void Date for PR – Users can enter a void date when voiding checks. The PR check reports have additional filters for sorting by void date.
Direct Deposit with ACH – Payroll Direct Deposit supports ACH file format.
Ability to Add Taxes While Editing Posting – Users can add additional Tax IDs to a payroll posting. The Inquiry button on the payroll postings screen is enabled while adding and editing, which allows users to call the Employee Tax Maintenance screen to assign additional Tax IDs.
Employees Moving/Changing Departments – The employee's current department is recorded in the posting. Payroll reports separate amounts by department for employees that have changed departments.
Production Entry
Enhanced Handling of Serialized Finished Goods – Users can create a work order for a quantity of more than one serialized Finished Good. In addition, serial numbers can be generated for the finished good when completing the work order.
Enhanced Handing of Serialized Components – You can tag the required component serial numbers of serialized components in a single step.
Rolled-Up Pricing Option for Finished Goods - A new dialog box has been introduced when saving Configuration details during SO entry to give the user an option to choose either the rolled-up price of components or the original price of the Finished Good.
New Manufacturing Journal Report Filters - Two new filters have been added to the Manufacturing Journal Report, for beginning and ending items and documents.
Purchase Orders
Vendor 1099 Warnings - Users can setup a 1099 warning date range. If a range is entered, a warning dialog displays if a vendor payment is made at the end of the calendar year, but before the 1099 year has been closed.
Request for Quote (RFQ) in PO – The RFQ feature allows users to enter information about quotes requested from vendors. RFQ's can be automatically generated using mail merge from Microsoft Word. When vendor responses are received, the quoted prices are entered in the RFQ and Bids or purchase orders can be generated.
Edit Ship-To for POs Generated from Blanket Orders – The Ship To information for Pos generated from blanket orders can be modified.
Purchase Order Addresses Retained - Purchase order addresses are retained after the period is closed and transactions are archived.
Edit Header and Add Comments for Released Blanket PO's - Users can change the header information and comments for a blanket purchase order after releasing it.
Enhanced Account Entry in Close Unbilled PO – The Close Unbilled PO receipts screen has been enhanced to populate the control account with the Item Control account by default. Tag All/None buttons have been added, along with a hotkey <Ctrl + E> that invokes the Select GL Account screen.
Print Receiving Document on Creating a PO – Users can print the receiving copy of an order immediately after creating the purchase order.
Retain SO Bids - Users can retain Bids that orders are generated from. This allows for Bid history and generation of multiple orders from the same Bid. You can also combine multiple Bids on the same purchase order. Users can select which line items from the Bid to include on the order and adjust quantities and costs/prices.
Customer/Vendor Link – This feature provides a way for users to adjust payments for vendors who also serve as customers. Users can determine a payment amount that takes into account both the purchase and sale of goods and services. Customers and vendors can be linked using the Company Maintenance screen in the Customer Connect application.
Return Merchandise Authorization (RMA)
Return Merchandise Authorization (RMA) - Return Merchandise Authorization (RMA) is a new module that lets users record and track customer returns. In addition, it incorporates warranty management (basic and extended) and re-stocking fees. Users can create RMA's for refunds, replacements or repairs. Refunds and replacements can be placed in locations that are marked as
"Repair" or "Scrap" type. User defined return reasons can be assigned to each line item returned and used for analysis. Repairs create a Job Cost job for tracking item repair progress.
Work Orders
Machine and Manpower Resources in WO Routes - This enhancement offers users the capability of setting-up the "Manpower" and "Machines" resources independently of each other in a Route. Users can specify setup and cycle times for these resources individually and assign actual Resource Instances to them when completing Work Orders. This allows costing of Work Orders with greater precision.
Overhead Calculation in WO Resources - Users can define an "Overhead" cost for the machine and manpower resources based on one of three calculation methods.
Add Notes to Work Orders – The work orders screen contains a Notes button that allows the user to add descriptive information to the work order.
Filtering Prior to Approve, Explode, Complete Work Orders – An option grid has been introduced to allow filtering of Work Orders by criteria to quickly select what orders need to be approved or exploded.
Changing Work Order Header Without Reconfiguring Components - While saving the header information of a work order, the user is given the option to reconfigure the component details of the order.
System Manager
Automate Period Close Process – Sage Pro ERP 7.4 simplifies application period close by providing the option to close multiple applications simultaneously. Information is no longer moved from current period files to archive files when an application is closed. In addition, new features are available in System Manager that allows users to move information to archive files, and to purge the archived data.
Close Period Without Exclusive Access – Applications, with the exception of General Ledger and Job Cost, can be closed at the end of a period without requiring exclusive access.
Fiscal Calendar Enhancements - The three year GL posting window has been eliminated and users can create as many future year fiscal calendars as needed. Previous year fiscal calendars remain open at year end close and users determine when to permanently lock them. In addition, new screens in System Manager allow users to modify the structure of a fiscal calendar (which can no longer be done during year-end closing) and set up their own structure including the number of periods and ending dates.
365 Period Fiscal Calendar – The Fiscal Calendar supports a maximum of 365/366 periods.
Expanded User IDs – The default User IDs character width has been increased to six characters. The user will be prompted with the option to increase the width to six characters or leave it at four.
Displaying Privilege IDs – Privilege IDs can be included in the alerts displayed to the user informing the user they cannot access an option.
Deleting a Company with Applications – Users can delete a company that contains applications. The applications of the company are automatically deleted when the company is deleted.
Setting Default Values – This feature uses the Rule File Maintenance screen to store the default field values for the maintenance screens relating to Customer, Vendor, Item, Item at location and GL account. Using the Rule Validation Maintenance screen, users can add and maintain appropriate default fields (and values). If the values are defined, they are populated in the relevant maintenance screens when a user makes a new entry.
New Interface Features
Task List and Menu Designer – This new interface allows users to navigate the menu options of Sage Pro ERP and customize them to fit their needs. Users can now view Favorites, Recent Forms and other objects instantly, or open another application such as Microsoft Word or Excel directly from the tree view menu structure. In addition, they can create a subset of frequently used menu for easier navigation, or build a custom menu by copying and modifying an existing scheme.
Drilldown - With this feature, users can drilldown from any object on a screen, report or DataDriller view. The users can drilldown to another screen, report or data view. In screens and data views, users can right click to choose to where they want to drill down to. In reports, users can click on a hyper-linked object. This feature is also fully customizable. For DataDrillers, a Driller ID is assigned to a data view or pick list column. The Driller ID script defines the options available for drill down, such as a DataDriller, Sage Pro ERP form or report. Programmers can create new drilldowns by using the Maintain ?? Drilldown menu option in SM.
Dashboard - Dashboard is an executive tool used to display critical financial information. It incorporates a business status report, customer/vendor listings with links to CC, and the ability to display custom DataDriller views with charting. It can be run inside the LAN or remotely over the internet. The Dashboard is designed on a new multi-tier framework for Sage Pro ERP, developed in Microsoft's Visual Studio 2005 and written in C#.
Sage Common Desktop – Sage Pro ERP screens can now be launched directly from the Sage Common Desktop. The Desktop opens Sage applications, third-party applications, files, and web pages.
Automatic Generation of Customer/Vendor IDs – Customer and Vendor IDs can now be automatically generated based on the company name. Users can set up the way the IDs are generated in the application setup screen.
Automatic Routings and Approvals – This feature supports various levels of approval limitations and allows users to send requests along an approval route, either automatically or manually. This will give users complete control over document approval at different levels. Users can set this up across the approval hierarchy using the "Approval tree". This is supported for Sales Order entry, Sales Order shipment, Purchase Order entry, Purchase Order receipt, RMA refunds, RMA replacements and RMA repairs.. The feature is fully flexible to allow multiple approvers (in case the primary approver is out on vacation).
Routing Notification E-mails – When a new routing request or approved/rejected notification is sent to a user by the routing system, an email message can be sent to the user as well using the Pro Alert application. In this way, a user who is not logged into Sage Pro ERP can be notified in a timely manner.
System-wide Features
Enhanced Options When Printing From Transaction Screens – Users can now specify output options when printing or previewing sales orders, purchase orders and invoices from the transaction screens. A dialog allows users to print with previous settings or to specify such options such as printer type and number of copies. For sales orders, users can now print or preview picking tickets as well.
Applying Filters to Data Views at Runtime – Users can now create Pre and Post Scripts for a Data View. Pre processing scripts can be used to accept filter criteria during runtime and are executed just before the data view query is executed. Post processing scripts runs before the data view is displayed and can be used to add additional columns to the data view.
Print/Fax/Email Orders and Invoices from DataDriller - DataDriller inquiries now allow users to fax and email orders and invoices through Message Master.
DataDriller Info Button For All Users - The Info button of the DataDriller and pick list forms is now enabled for all users with a privilege.
Full Support for "Contains" Operator in DataDriller Filters – Data views and pick lists filters now support the "Contains" operator for all cases including Current/History joins and definitions containing the "Group By" clause.
Removing Joined Tables from DataDriller Definitions – Tables once joined in a data view/pick list definition can now be removed.
Drill Down in DataDrillers Extended on Include Joins – Drill down from data views and pick lists filters are now supported for definitions that include Current/History joins.
Recently Opened Screens Menu – With this option users can add recently opened forms to the Sage Pro ERP menu. Any type of form including MDI, non-MDI and report option grids can be added to the File??Recent menu list.
More Favorites - Users can now add Report option grids, non-MDI forms and DataDriller Data views to their Favorites toolbar/menu.
AutoComplete – The AutoComplete feature remembers past entries and automatically pre-populates fields as you type to save time and effort. This convenient feature applies to all text boxes in which values were previously entered and displays them in a dynamic list of suggested entries.
Progress Bar Status – A progress bar has been introduced to display percent completion for long running processes. It also stores the progress information in a log table.
Ability to Set the Color of Screen Controls Having Focus – This new feature allows the users to set the foreground and background colors that are used to indicate that a control has focus on a screen.
Internet-based Address Mapping Tool – This feature provides an internet-based map for an address in several customer and vendor forms, such as Order Entry, Customer and Vendor Maintenance and many more. Users can select from Google Maps, Yahoo! Maps or Microsoft MapPoint as the map provider. Any address (including international) that is supported by the selected map provider can be mapped.
Directory and File Dialogs – Enhanced system dialogs for retrieving directory and file names have been added.
Default Icons for Favorites – Users can now specify a default favorites icon for any menu option. The selected icon will appear on the desktop when the option is added as a favorite.
Drill Down on Reports - Users can now preview reports in HTML format and drill down from hyperlinked columns.
Mailing with Multiple Recipient Addresses - When creating email from within Sage Pro, the recipient field now accommodates multiple email addresses.
ACCPAC Pro Series 7.3
Inter-company transactions in Accounts Payable and General Ledger
National Accounts in Accounts Receivable and Order Entry module
Import Open Financial Exchange (OFX) file from bank in A/P Bank Reconciliation for easy checking account reconciliation
Advanced Data Driller formatting and filtering with multiple data filter settings as the data driller continues to improve
Unlimited custom report versions of each standard report and more print options (e.g. Landscape orientation, page ranges)
Data import wizards for customers, vendors, items and GL accounts
Improved Multi-currency features including multi-currency in GL
Improved Customer and Vendor payment terms features, including 'Prox' terms and split payment terms for vendors
Vendor pricing tiers similar to Customer pricing tiers
Inventory demand forecasting feature are improved, including group forecasting for a designated group of items
Active or Inactive status for customers, vendors, items, Items at Location and item supplier
Generate Reversing Entries Menu option allows control over period close and Reversing Journal Entries Wizard generates reversing journal entries to any period
Ability to drill down from GL postings to source documents in sub-ledgers
Ability to copy Sales Orders and Purchase Orders from history files.
Vendor payment options to split payments between payment methods
Credit card handling during order entry and verification services interface to IC Verify and other services.
Reference number on the sales order allows better tracking of pre-payments to sales orders
Bank Deposit #'s and grouping on receipts for easier bank reconciliation
Ability to ship orders immediately when adding or editing orders
Ability to edit Customer and Internal line item notes during shipment
Job Cost includes numerous invoicing, retainage, tax reports and screen design enhancements
Units of Measure conversions now available throughout manufacturing for BOM Components and in Item Maintenance with the ability to optionally specify a default Component UOM for items that may be used as components on BOMs
Bill of Material screen supports the MDI architecture and is a 'tree view' menu
Addition of new accounts in IC Setup & Locations for Scrap and Variance rather than IC Clearing
Ability to Unapprove and Unexplode Work Orders
ACCPAC Pro Series 7.2
Multiple line Value-Added Tax (VAT) support
G/L alphanumeric account codes
Defer invoicing during shipment and then combine shipments from all or just selected orders into a single invoice
Inventory Item Forecasting Wizard introduced
QuickShip bulk shipping feature added
Print or view orders and invoices upon creation, or when making any changes
Edit Sequence command when printing, lets users change the line sequence of sales orders, purchase orders and invoice line items for improved presentation to clients
Document linking. Attach any files to customers and inventory items
Message Center has been enhanced to enable bulk message delivery, including file attachments
ACCPAC Pro Series 7.1
Microsoft SQL 2000 Support
Customizable Pick List by user using Data Driller technology and incremental and interior searches
Data Driller filtering, record locating, column sort, text search and incremental search capability
Display forms, such as invoices, sales orders and purchase orders from history files
Print by page range option and default print preview to Adobe Acrobat
Integration with ACCPAC Exchange EDI, and eCRM customer relationship management
Sales Order can be copied to Purchase Orders and automatically create drop ship purchase orders from sales orders
Customer credit limits and credit hold functionality improved
More descriptive information on payables invoices
Small Business Edition (no source code, low-cost version) becomes modular
Options include Customer Contact and Bill of lading – former Lahey modules
Bill of Material module added
Screen setting including Favorites, toolbars and form settings – size and position - are saved by user
ACCPAC Pro Series 6.5
ACCPAC Pro Series Manufacturing completely integrated: Production Entry, Work Orders and Shop Control
Multiple Document Interface is introduced on most screens. Work on more than one screen at a time!
Cross Modular Transactions — multiple screens and windows open across applications
Favorites Toolbar and Menu — Launch favorite screens quickly without navigating the menu.
Business Status Report is an MDI transaction form with enhanced drill down
Transaction Rollback for MDI Forms and batch processes. Easier recovery from crashes.
Microsoft Visual Foxpro Database Containers for more reliability and Check Database integrity utility
The toolbar is now a Windows toolbar. Move it around on the screen.
Form Zoom and Resize Feature— users can save the new form settings by user ID
Data Driller Printing, custom report capability and export to XML
Electronic manuals — Doc on Disk — Now accessible from the tool bar with easy access, lookup and search.
Drag-and-Drop from Windows application for text
Automatic Recommended Purchase Orders and Purchase Order receipt correction features
Consolidated PO Receipts report
Early Payment Discount — calculation for A.R. invoices not paid in full.
Choose Different Size Labels
Negative Deductions in payroll — negative deductions for specific tax-exempt deductions
Copy and/or Move Data from One Company to Another
Import External Postings to General Ledger is now date sensitive
Job Cost Retainage and tax report improvements
SBT Pro Series version 6.0
SBT DataDriller with enhanced drill down and data view capabilities
Customization Manager introduced – Make and maintain modifications under program control
Optional use of soundex indexing
Recover from AP/PR check runs
Tighter integration between PO receipts and AP invoicing
AP remit-to addresses
Multiple AP invoice entry for the same vendor
As of Aging to see prior inventory levels in Inventory Control
E-mail and web browser support from customer and vendor screen
Improved inventory cycle counting
Native support for manufacturing Bills of Material configurator from Sales Orders
Sage, ACCPAC, SBT and Pro Series are trademarks or registered trademarks of Sage Software in the United States and/or other countries. Thanks to Steve Morin and Matt Lefkowitz for their permission to use this article.