If you need to measure your employees' time spent on billable work which is problem common to all professional service firms, one way to do that which is very general purpose and will fit most of the firms under 100 employees is to use a cloud based software package called BigTime. It integrates with QuickBooks Pro, but can also be used standalone or in conjunction with a package such as ACCPAC or Sage Pro ERP. This posting describes this powerful package.
Time, Billing and Practice Management Anywhere, Anytime.
BigTime offers you a web-based software as a service solution, making it accessible from anywhere with an Internet connection. In addition to remote access, choosing a SaaS solution means you'll avoid the time and fees associated with installing and hosting your own software, breathe easy knowing your information is completely secure, and benefit from automatic updates and no need for an added maintenance plan.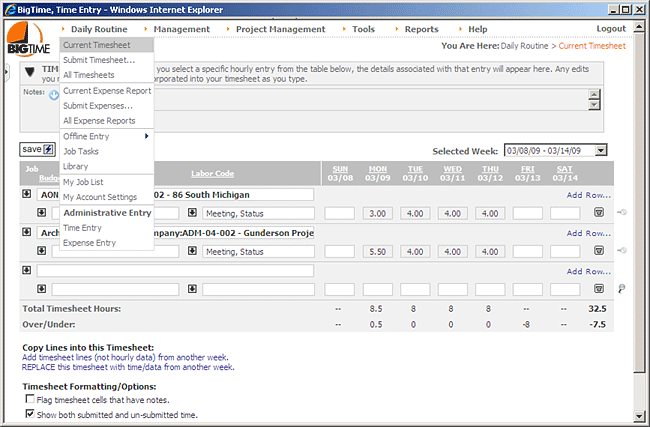 Big Time Data Entry Screen Shot
Fit for your Industry's Needs.
BigTime has a completely customizable system that tailors your solution to your specific industry automatically! Most of BigTime customers are up and running with a system that speaks their industry's language right out of the box, including:


Architecture/Engineering

IT Consulting

Marketing Services

Design/Advertising

Public Relations

Investor Relations

Project-based (development)

Outsourcing/management

Professional

Management Consulting

Accounting
It's powerful technology, but it's easy to learn and use.
Easy-to-follow road maps, overviews on every screen, lookups and pop-ups help guide users through every task; and an easy-to-access system of short and direct help files all make BigTime extremely simple to use.
Intuitive time and expense entry, with customizable project management.
BigTime offer you 30 different time sheets, and 10 expense formats that are incredibly easy to use.
No matter what your submission and approval process is, BigTime gives you access to three login levels: staff, manager and system admin, so you can set up a company-wide standard for who reviews what.
Budgeting.
Keep your staff and projects on track by knowing from the start where you should be and how much you should be spending. You can budget at three different levels (account, task and staff) which makes accuracy easy to maintain.
Impressive Reports. Perfect Invoices.
In addition to 150 reports, which are tailor made to the services industry, BigTime's report wizard allows you to create from scratch and modify reports and screens to include over 1500 database fields.
BigTime also offers over 100 advanced rate tables and invoicing templates. It ships with 8 popular industry billing formats (and over 20 printed invoice forms) which you can customize to fit your exact requirements.
QuickBooks Integration:
BigTime is built from the ground up to snap right onto QuickBooks. All of your invoices, your time and expense information, your clients and your employees are quickly integrated. No need to reconfigure.
DCAA
If you are a professional services firm working with the government, then the BigTime DCAA Compatibility Module is essential. BigTime will give you the tools you need to setup a DCAA compliant process for tracking time and job costs. Government Contractors version includes certified timesheet submission and supervisor review with complete audit trail, as well as audit reports.