Stonefield Query for Sage Pro ERP

Released
May, 2014
Stonefield Software is pleased to announce the newest release of the Stonefield Query for Sage Pro ERP.

With this new release you can:

1. A new chart type is now available: Donut, which is similar to Pie but with a hole in the middle.

2. You can now define a chart with a second values field; this field is charted as a second series against the right axis.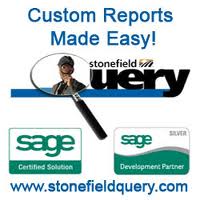 3. There are now relationships between the Purchase Orders Invoices and Accounts Payable Vendors tables, between the Accounts Receivable Receipts/Adjustments and Adjustment G/L Distributions tables, and between the Return Material Authorization Details and RMA Kitting Details tables.

4. You can now report on the Unit Price and Quantity fields in the Accounts Receivable Recurring Charge Details table.

For a complete listing of all the new features check out the Stonefield Query Blog at:
http://blog.stonefieldquery.com/2014/05/stonefield-query-for-sage-pro-version.html
Download the latest version:
Stonefield Query Website Update
Stonefield Software has released two website updates. The custom solutions (Stonefield Query for AccountMate, ACT!, Alere, GoldMine, HEAT, Sage 300/Accpac, and Sage Pro ERP) are relocated to http://www.stonefieldsoftware.com
All product downloads, videos, and support tickets for the custom solutions can be entered via http://www.stonefieldsoftware.com

The Stonefield Query Studio (formerly SDK) can be downloaded at:
http://www.stonefieldquery.com
Stonefield Query Blog
If you want to know about the latest Stonefield Query news right when it happens check out the Stonefield Query Blog at http://blog.stonefieldquery.com/. You can set up a RSS feed using the link of http://blog.stonefieldquery.com/feeds/posts/default


Contact Information
Please notify Stonefield Software of any contact and/or email changes so we may update our records accordingly. Update notifications, maintenance notices and other Query information are all sent by email so it is important to have this information up to date. Please email any changes to sales@stonefieldquery.com.


Technical Support
If you have any technical questions regarding please log a support question in the Stonefield Support Center at:

http://www.stonefieldsoftware.com/helpdesk


Regards,
Stonefield Software, Inc.
Phone: 306-791-6825
Toll-free: 800-563-1119 (U.S & Canada)