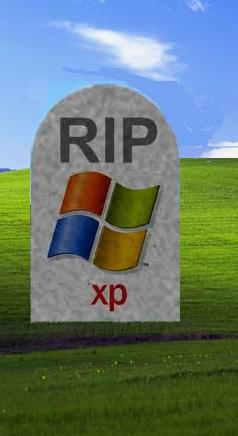 On April 8, 2014, support for Microsoft Windows XP will officially and permanently be shut down. With the majority of businesses having an entrenched Microsoft legacy, with everything from laptops to desktops to notebooks and netbooks running the oldest and most popular operating system, we want to know if you're ready for the great migration. If you're anything like us, you could be in for a double-whammy and the headache that comes with it! Not only will our XP system be unsupported, but our Sage Pro 200 accounting system will also be made redundant.

We all know that technology marches every onwards, and these challenges present us with an opportunity for growth, but two migrations at the same time? How are we to make sense of that? Although the Windows XP migration has been on the cards since its release, with the termination of support being a planned strategy, it can represent a major challenge for many businesses. Migration can take 18 to 32 months to get right, and - depending on the size of your business - is not always something that your IT department can handle alone. For large businesses, it's simply too great a task.

Centrica, the British multinational utilities company, plans to migrate 26,500 staff from Windows XP to Windows 7 by the end of the year. It's a $65 million move, and Centrica have had to bring in Fujitsu to manage it. And it's not just Windows XP that will become obsolete, but also Office 2003 and XP SP3. Migration on such a scale brings to the fore various questions about how we manage our desktop IT. It could be just the right kind of move that forces many businesses, large and small, to reassess their IT strategy.

No matter the size of your business, running an unsupported operating system is simply not viable. From April 8, 2014, all free and paid support for Microsoft Windows XP, XP SP3 and Office 2003 will cease. Security updates and non-security hot-fixes will no longer be available, and your IT infrastructure will be wide open to, and likely plagued by, errors, bugs and attacks. You're looking at potentially wide-spread control failure, suspended certificates and licenses and an inability to protect your customer's and client's personal information. These short-comings will be both an internal nightmare and public knowledge. It forces us to confront our IT strategies head-on, and leaves us asking ourselves how to address all of these challenges at once.

While it may be possible to install Windows 7 or Windows 8 into your XP OS, you'd be playing a dangerous game of dicing with unavoidable obsolescence. The benefits of migrating to a Windows 7 system are obvious, given the short-comings and impending redundancy of Windows XP. Migrating to Windows 7 will afford your staff a more flexible, dependable and efficient system. It will improve operational efficiency, and put you back in the drivers seat until Windows 7 itself becomes unsupported in 2020. Windows 8 is also an option, but Windows 8 has alarming and widely recognized deficiencies. Support for Windows 8 will continue until 2023, but since we are already considering a whole-scale migration we may as well consider the best possible migration.

PC manufacturers are cottoning on to this industry-wide upheaval and are pushing Windows 8 into businesses by offering it at a far cheaper price than Windows 7. You can pick up a Windows 8 PC with 6 GB of memory and a 1 TB hard drive for as little as $330 to $400. The cost of new hardware has actually fallen significantly in the last two quarters as manufacturers attempt to promote new hardware as as an enterprise worthy solution to the migration. It's possible they have a point, as the 'hardware is the new software' debate continues amid the increasing popularity of hybrid devices, and as features like touchscreens and SSD drives become more common.
Some businesses have decided to roll out new internet-centric operating systems to departments like sales and marketing, where staff aren't dependent on things like MS Office. Many people are seeing the Windows XP migration as an opportunity to upgrade their hardware, or trial newer operating systems like the linux derived Chrome OS which runs on the internet-centric Chromebook and Chromebox. These are low-cost, low-maintenance solutions that have the advantage of security being managed from the internet gateway, for example, making the IT environment easier to manage and raising the possibility of cloud-based solutions being the way forward. More and more of our clients have been switching to cloud servers rather than replace their 2003 servers. Unlike the Microsoft servers, cloud servers have no planned expiration date and could conceivable keep running forever, so long as there is a way to power them.
Read More