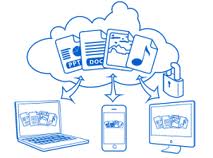 The evolution of data backup has seen rapid changes over the past decade. This has become particularly evident, ever since cloud based data protection began to provide access to the effective management of regularly complex backup systems. As such, businesses have become increasingly interested in how to backup to the cloud to safeguard their critical management data efficiently, and in a cost-effective manner.
The three main trends that are driving the backup to the cloud generation are: 1) the need for data control; 2) the explosion of mobile device usage and the resultant business data access; and 3) the mass acceptance of virtualization.
Data Control. Businesses rely upon business management applications such as Sage ERP ACCPAC for a seamless, scalable and integrated solution that operates on Windows XP, Vista and Windows 7. As this type of software is a critical aspect of any business and runs in real-time, the data associated with financial and customer information can easily be compromised. As the number of staff which has access to critical data increases, it becomes even more necessary to backup to the cloud, for a business system that works to safeguard critical business data.


Mobile Device Access. Technology has enabled a type of mobility for business staff that has necessitated the use of devices such as the BlackBerry, iPhone, Androids and Smartphones which keep them connected to the internal computing platforms of their company's critical data. While these mobile devices have liberated productivity, their use has also placed business data in a much more vulnerable position. As users continue to embrace a variety of devices that sync contacts, calendars, email and other data, the chance of compromising critical business data increases dramatically. As it is nearly impossible to manage each individual's devices from an IT standpoint, it then becomes crucial to backup to the cloud to minimize the risk of potentially catastrophic user-generated data mistakes.


Virtualization. The use of mobile computing devices has also created a more pronounced need for virtualization, as developers release prototypes of items like virtualized mobile phones. Because the devices are multi-functional, it makes sense to tap into the convenience of virtualization, since this could easily streamline applications and make the management of various applications far easier. Since mobile devices are essentially full-blown computers, their support of virtualized environments is inevitable. While this is exciting in the world of technology and the workplace, again, this presents a challenge for the IT departments in the companies where staff utilize virtualized mobile devices. Here again, it is critical to backup to the cloud so that business assets and data are adequately protected.
The above three aspects are the main trends that are driving the need to backup to the cloud. In addition, it will be interesting to watch how the regulation of these devices on a world-wide basis will transpire. For example, when United States President Barack Obama first came into office, he was cautioned by U.S. intelligence staff that using his BlackBerry device was not recommended. As an alternative, a separately designed infrastructure was designed so that he would still be able to use the device that essentially, helped propel him as probably the most technically advanced and most highly elected official that his country had seen to date.
Cloud data backup technologies have significantly changed the way that business infrastructures are designed and managed. Needless to say, the internal messaging systems and critical data will need to have a regular backup to the cloud. In addition, much of this data will need to be archived and could be subject to legal search under compliance mandates. Therefore, finding business systems that work to manage, as well as safeguard business data will become imperative. For this reason, the need to backup to the cloud will only increase over time.
Read More